Mediation
Donna Greenspan Solomon, Esq., is a Certified Circuit, Appellate, and Family Mediator and a Diplomate Member of the National Association of Distinguished Neutrals. (Mediation services are limited to attorney-represented parties).
Donna is a member of the Palm Beach County Bar Association's Alternative Dispute Resolution Committee, and publishes periodic Arbitration Case Law Updates on the ADR Corner of the Association's Bulletin. Donna is a frequent speaker on ADR issues.
Donna does not see her mediator role as simply a messenger to carry offers back and forth. Donna models herself on the kind of proactive mediator that she appreciates as a litigator herself – someone that can understand and get to the heart of the issues, is pragmatic, persistent, patient, and who can deal effectively with sensitive issues and clients.
Donna is also a Chair-Approved Member of the AAA's Roster of Arbitrators (Commercial Panel), a FINRA Chair-Approved Arbitrator, and a Florida Supreme Court Qualified Arbitrator. She is one of only three attorneys certified by The Florida Bar as both Appellate Expert and Business Litigation Specialist. After graduating from law school at the top of her class, Donna clerked at the Fourth District Court of Appeal for the Honorable Barbara J. Pariente (ret).
Donna serves on The Florida Supreme Court Committee on Standard Jury Instructions (Contract and Business Cases). She is a former Chair of The Florida Bar's Business Litigation Certification Committee. She is also a former Certified Public Accountant with an MBA in Finance.
To request additional information, please use the Contact Us form, call 561-762-9932 or email: [email protected].
NADN Calendar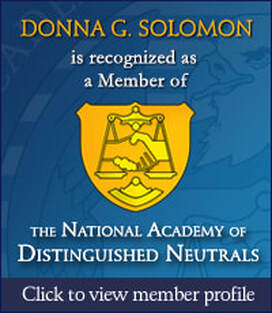 To reserve an appointment for your arbitration or mediation, please click your preferred available date.
Our staff will contact you on receipt of your Appointment Request form.