Civil Appeals (State & Federal)
Donna Greenspan Solomon, Esq., is one of only three attorneys certified by The Florida Bar as both Appellate Expert and Business Litigation Specialist. After graduating from law school at the top of her class, Donna clerked at the Fourth District Court of Appeal for the Honorable Barbara J. Pariente (ret).
Donna serves on The Florida Supreme Court Committee on Standard Jury Instructions (Contract and Business Cases). She is a former Chair of The Florida Bar's Business Litigation Certification Committee.  She is alsoa former Certified Public Accountant with an MBA in Finance.
Donna handles final and interlocutory appeals in all of the Florida District Courts of Appeal, the Florida Supreme Court, and the Eleventh Circuit. She also appears pro hac vice in appellate proceedings outside Florida.  Donna is experienced in filing extraordinary writs, such as petitions for writ of certiorari challenging discovery orders. She has also testified as an expert on appellate fees.
Donna associates with other attorneys on an "of-counsel" basis in drafting pre-trial substantive motions and memoranda, preserving the record for potential appeal, and handling appeals.
To request additional information, please use the Contact Us form, call 561-762-9932 or email: [email protected].
NADN Calendar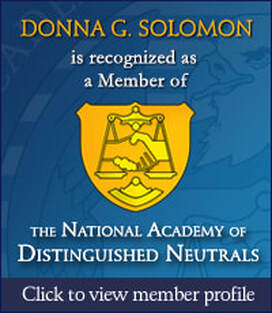 To reserve an appointment for your arbitration or mediation, please click your preferred available date.
Our office will contact you on receipt of your Appointment Request form.