Arbitration (Binding & Non-Binding)
Donna Greenspan Solomon, Esq., serves as an Arbitrator in both Binding Arbitration (per agreement by the parties) and Non-Binding Arbitration (pursuant to Florida Rule of Civil Procedure 1.820 and/or court order).
Donna is a Chair-Approved Member of the AAA's Roster of Arbitrators (Commercial Panel), a FINRA Chair-Approved Arbitrator, a Florida Supreme Court Qualified Arbitrator, and a Diplomate Member of the National Association of Distinguished Neutrals. Donna is a member of the Palm Beach County Bar Association's Alternative Dispute Resolution Committee, and publishes periodic Arbitration Case Law Updates on the ADR Corner of the Association's Bulletin. Donna is a frequent speaker on appellate and ADR issues.
She is also a Certified Circuit, Appellate, and Family Mediator.
Donna is one of only three attorneys certified by The Florida Bar as both Appellate Expert and Business Litigation Specialist. She is also a former Certified Public Accountant with an MBA in Finance.
To request additional information, please use the Contact Us form, call 561-762-9932 or email: [email protected].
NADN Calendar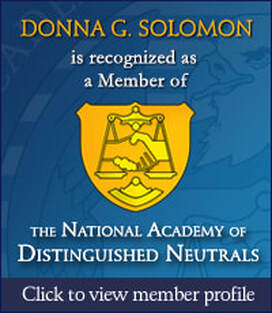 To reserve an appointment for your arbitration or mediation, please click your preferred available date.
Our office will contact you on receipt of your Appointment Request form.